IDS - Speech Messaging System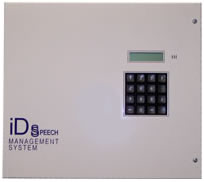 The iDSpeech System is a multiple trigger input, programmable speech messaging system. The trigger inputs to the main unit are made via remote iDS input modules. These modules each have the facility for two input and two output zones. Up to 30 two input remote units may be connected to each of the data circuits, thus allowing a system capacity of 120 input and output zones. Connection between the remote units and the main panel is via a single pair data highway.
The main control unit houses all the control circuitry, speech storage and system drivers and has a simple front panel mounted keypad which allows the user or engineer to respectively control or program the system. All user and programming features are displayed on the front panel 2 line backlit LCD display.
Programming can be carried out remotely using a PC together with our proprietary software program (Windows 98 required).
The iDS can also interface to a pager system enabling unique messages for each zone to be sent to pagers. (Programming of this feature must be carried out via a PC.)
System Features
1. Speech library - up to 200 one second words/phrases
2. Four user programmable ten second phrases
3. Natural high quality sound reproduction
4. Configurable high and low priority repeat timers
5. No degradation of sound quality over time
6. Programmable message prioritization and auto message cueing
7. On board 12 watt into 8 ohm quality audio amplifier
8. On-board 0dB balanced line output audio stage
9. High and low priority control relay outputs
10. System zones mapped up to 4 independent areas
11. System areas controlled via two 'set' and 'control' inputs
12. System zones programmable via 7 digit point ID code
13. Up to 120/120 remote input/output zones respectively
14. Two wire data highway, maximum radius distance between iDSpeech controller and remote input = 1200 metres
15. Simple user/engineer front panel mounted keypad
16. Front panel 2x16 character supertwist backlit LCD display
17. Non-volatile memory (NVM) program back-up
18. Time and date stamped 150 event log
19. Twenty user programmable (named) PIN code facility
20. Interface to pager system as well as or instead of speaker messages
21. Remote programming of all functions via PC serial connection
22. Main unit housed in painted steel box 360x320x95mm
23. Remote unit housed in painted steel box 150x105x40mm