SPU - Signal Processing Unit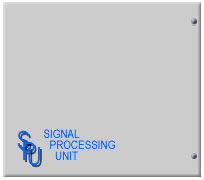 The Signal Processing Unit (SPU) was designed to the specification of a leading DIY chain store and is used to protect the garden centres and loading areas of their stores throughout the UK. The unit takes signals from standard passive infra-red detectors (PIR) and processes them in a way that eliminates false alarms common in outdoor situations caused by animals, birds or wind disturbance.

The SPU electronic security system can accept up to four inputs (expandable up to eight with an additional plug-in board) and outputs are provided to switch on lighting, output loud-speaker messages and signal to main alarm panels progressively whilst stimuli are received. All parameters are under software control and are programmable by the engineer.
The unit also accepts an input from a photocell to give total control of both courtesy and security lighting.
With several hundred installations since 1998 and very few false alarms having been signalled to the main panels the unit has a proven track record.
Technical Specification
Power supply
240V 50Hz mains with sealed lead-acid back-up battery (not supplied)
Inputs
Normally closed contacts
Outputs
Either dry contacts (normally closed) or 1K in series and 1K across contacts (link selectable)
Audio output
12 watts into 8 ohms high quality amplifier (on board volume control)
Lighting outputs
Open collector outputs for external lighting relays (back-emf diodes fitted on board)
Auxiliary outputs
Lighting: 1 switched +12V output and 1 dry relay contact
Speech: 1 dry relay contact
Controls
Software programmable via 4 keypad switches and 2-line LCD display
NB all settings are retained in non-volatile memory
Speech
On-board microphone for message recording
Total message time (2 messages) 16 seconds
Mechanical
White painted steel case 360x320x95mm